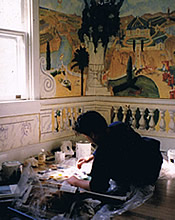 T. Chase Nelson, a native of Mississippi and now Louisiana, is a painter of architectural and landscape scenes and portraiture, both human and the occasional dog! Since childhood, Chase has been drawn to art and all things aesthetic; but in his traditional old southern family, being an artist was considered rather bohemian, so architecture was urged as the polite alternative. Beyond a brief foray into the political world on Capitol Hill, Chase pursued a career in architecture, but art and painting were always in the back of his mind.
In the early 1990s, armed with a Master's in Architecture, he began working in the classic Beaux Arts style of architectural rendering, creating paintings in watercolor and pencil, which garnered much critical praise in publications such as Architectural Digest and Southern Accents.
Chase joined in partnership with an architecture school friend, Andrew Boyd, to found the firm of Boyd & Nelson Architectural Design, concentrating in house design. This satisfied Chase's near obsession with houses, but the work included too many other factors and hands between the pure joy of designing and the finished product.
Finally in 2000, his wife Maura, tired of the laments of a lost career as a painter, purchased an oil painting class for him at the Corcoran College of Art. With great trepidation, he went to his first class certain that a sneering professor all in black would laugh derisively at his desire to paint like John Singer Sargent or Edgar Degas. But she was kind and encouraging, and thus the seeds were sown.
And here he is . . . having abandoned the all consuming practice of architecture, but enjoying designing for himself and a small group of friends. He paints whenever he can, continues to take classes, and has plans to build a studio in the barn of his summer house in Pennsylvania.
Welcome to the site. . .

Shows:

Urns at the Marston Luce Gallery; Washington, DC, 1991
Perry House Invitational; Alexandria, Virginia, 1993
Structure, Body & Form; Vaughan-Goodman Fine Painting, 1993
Quattordici, Results Gallery; Washington, DC, 2004
Campagna - Country - Campagne: Rustic Life and Vistas
The Greenbrier; White Sulphur Springs, West Virginia, 2006
Education:

BA, Washington and Lee University
Master's, Architecture,
Virginia Tech
Corcoran College of Art + Design
The Art League, Alexandria